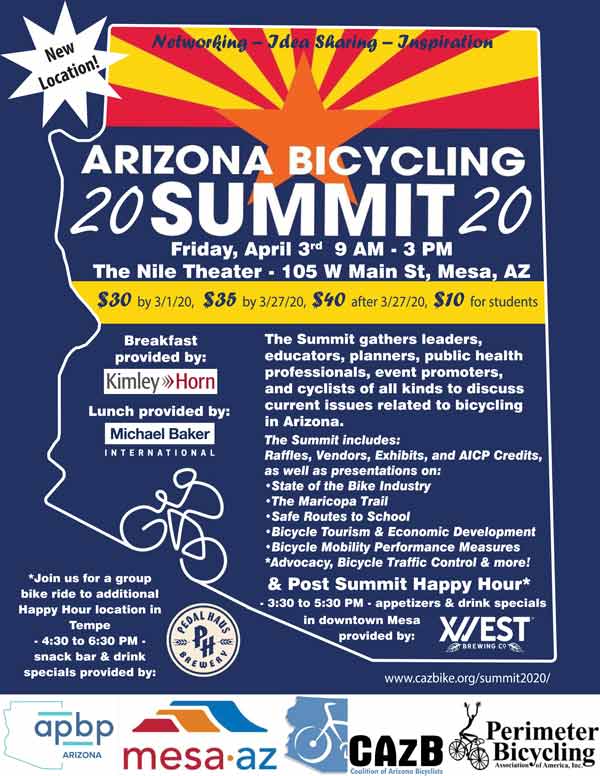 Arizona Bicycling Summit 2020–POSTPONED
The Arizona Bicycling Summit 2020 that was scheduled for Friday, April 3, 2020 at the Nile Theater, 105 W Main St, Mesa, AZ 85210 has been currently postponed until further notice. For more information and updates please visit their site page here: https://www.cazbike.org/summit2020/ 
Vehicle parking located behind theater, bicycle parking use rear entrance, see map. in downtown Mesa.
Registration is now live! apbp.memberclicks.net/arizona-bicycling-summit-2020    If you have any trouble with registration process please contact the Coalition of Arizona Bicyclists directly. Click here for all types of registration (non-APBP members will need to create free account):
Individuals: early bird $30
Students: only $10
Volunteers/Speakers: free
Non-profit table space: free
Vendor Table space: $100
Registrants receive refreshments courtesy of our sponsors: Lunch Michael Baker International, Breakfast Kimley-Horn.
Program/Agenda outline; The summit includes:
Raffles, Vendors, Exhibits, and AICP Credits. With presentations on:
State of the Bike Industry
The Maricopa Trail
Safe Routes to School
Bicycle Tourism and Economic Development
Bicycle Mobility Performance Measures
Advocacy, Bicycle Traffic Control & More!!
Join us afterwards and even bike if you would like to the Post Summit Happy Hour you are welcome to attend!
Flyer / announcement (.pdf version):