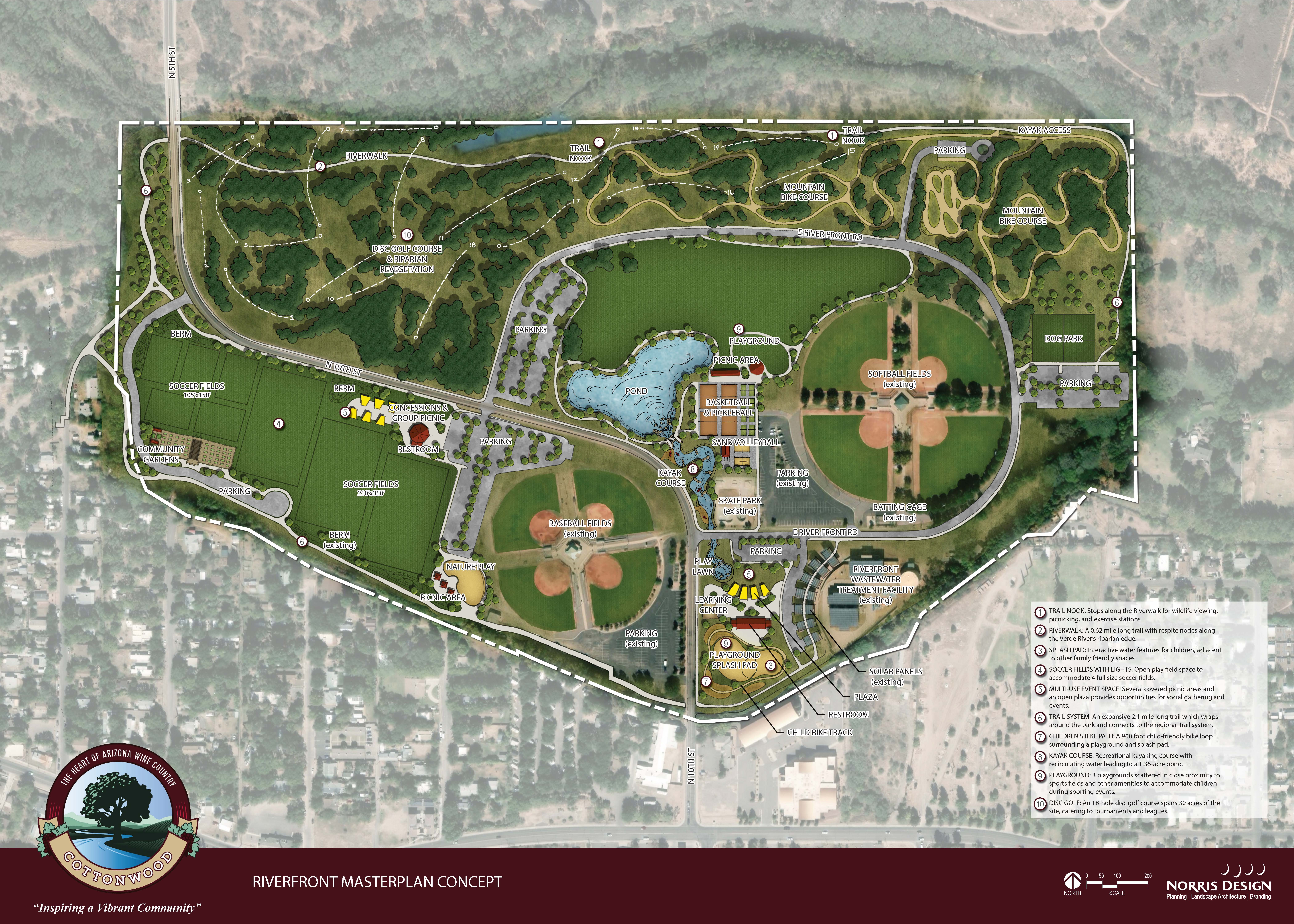 Location: *Location*, AZ
Entities: City of Cottonwood, The Nature Conservancy, Yavapai County Community Health Services (YCCHS0, Arizona Dept. of Health Services, & Norris Design Group
Organization Site:
N/a
Contact:
N/a
Project Info:
In 2016, the City of Cottonwood completed a Riverfront Trails and Recreation Master Plan as a result of a River Recreation Planning Grant from The Nature Conservancy. The project identifies future pathways and trails throughout Cottonwood and regional destinations and hopes to "serve as a blueprint for the development of a high quality, interconnected, multimodal, regional trail system in Cottonwood, Arizona. The system is envisioned to serve a diverse range of users, providing safe and well-maintained linkages to important natural, cultural and civic destinations and other points of interest within and outside of the city" (Norris Design, 2016, p. 6). The final report recommended nine action priorities that included: a connection between Riverfront Park to the Verde River, connection between Riverfront Park to Old Town Cottonwood and creating connections to community assets (Norris Design, 2016).
The proposed designs developed by the Norris Design Group show exciting potential for increasing access to area parks and trails in the Riverfront Complex and the greater Cottonwood area.
The Riverfront Recreation Masterplan was broad in scope and its recommendations provided an exciting blueprint for a comprehensive approach to outdoor experiences in the community. After meeting with stakeholders it was determined by Yavapai County Community Health Services (YCCHS) that a Health Impact Assessment is needed and likely to be useful for the future implementation of the Cottonwood Riverfront Trails and Recreation Master Plan. YCCHS was awarded a grant from the CDC through ADHS to conduct an HIA.